Inventor. Innovation Keynote Speaker.
Julie Austin
Learn how to think like an inventor to generate breakthrough ideas and create your ultimate competitive advantage
Inventor. Innovation Keynote Speaker.
Julie Austin
Julie Austin Speaker Reel July 2023
.org Innovation Summit – Julie Austin
Innovation keynote speaker at the .org Innovation Summit. This video clip is about using innovation to create your ultimate competitive advantage.
PPAI promo video on competitive advantage
This was the promo video for the PPAI Women's Leadership Conference for the promotional products industry. The topic was on competitive advantage.
The Invention of Safety
How to Improve Your Bottom Line and Employee Morale Through Innovation
In the safety industry, safety inventions have not only made money, but saved lives. Inventor and innovator Julie Austin shows you how to turn your employees into problem solvers, and avoid safety issues in the first place.
Julie invented a product that solved her own life-threatening situation that has been used by people around the world. She gives examples of people throughout history whose safety inventions have saved lives, and how you can get your staff to generate innovative ideas that solve problems.
Julie Austin Innovation Keynote Speaker – Competitive Advantage
Inventor and innovator Julie Austin's speech based her book "Surviving Disruption", is 12 unique, innovation strategies you can use for marketing and branding to distinguish yourself and stay ahead of the curve. From the DEMA conference (Diving Equipment and Marketing Association)
"If They Care About Your Story, They'll Care About Your Brand" Use Storytelling to Brand Your Biz
People are bombarded with messages all day long. But studies have shown that the ones they remember are the ones that have a good story behind them. In fact, people are 20 times more likely to remember your company or product if it has a good story. The trick is to find what's compelling about your company or product, and weave the features and benefits into the narrative.
As the gatekeeper for an international Academy Award winning production company, Julie dishes the insider secrets on how to construct a great story. She's worked in the development of over 1,000 scripts and heard numerous pitches requesting funding from $50,000 to 5 million dollars.
Your attendees will learn:
* How to get people to fall in love with your brand
* Why people need heroes and where you can find them
* How to get people to think of your product first
This clip is from the DEMA conference (Diving Equipment & Marketing) on business storytelling.
.org Innovation Summit Promo
Why hire Julie as your Creativity Innovation Keynote Speaker​?
Many creativity innovation keynote speakers have never actually innovated. Julie is an award-winning inventor whose NASDAQ-winning product is sold in 25 countries. She comes from a background as a TV host and film actor, so you get high energy entertainment, humor, and actionable innovation takeaways, all customized for your audience. Learn how you can stay ahead of disruption and create your ultimate competitive advantage.
Julie's speech on creativity and innovation was right on target for our scientists, who constantly need to generate new ideas in the lab. The creativity exercises for left and right brain thinking showed how important it is to get ideas from all sources and be able to connect those ideas to come up with a new and unique innovation. It was fun, entertaining and educational.
The Scripps Research Institute
It was a pleasure having Julie speak at our ASD International Retail Conference in Las Vegas. The retail and wholesale small business owners appreciated her topic "Using Innovation for Competitive Advantage". The interactive creativity exercises helped get the audience involved, and demonstrated that creativity in business is definitely the way to beat the competition at their own game. I would highly recommend her speaking services.
ASD International Retail Conference
Julie Austin's speech, 'Reinvent Your Marketing' was well received by our Daekyo franchise owners at our recent conference. As an inventor and business owner with distributors around the world, Julie's topic of using innovation and creativity to add value to your business was inspiring. Franchisees left with unique, hands-on tools to improve their own marketing, and ways to generate more ideas of their own.
Miko Carating
Daekyo America
Brainstreaming
All innovation starts with great ideas. Some of the most important innovations in history were discovered by accident, such as Post it Notes. Inventors know the tricks to generating breakthrough ideas on demand. We do it every day.
This book isn't just about inventing a product. It's about using the secret techniques that inventors know to generate breakthrough ideas. They could be ideas for products, services, marketing campaigns, advertising campaigns, or new business models.
This book is for corporations and organizations that want to turn their employees into problem solvers, but don't know where to start. Or ones who have tried typical brainstorming with negative results.
It's for small business owners and entrepreneurs who want to generate new ideas to stay ahead of their competition. It's for employees who want to come up with new ideas at work to either make their job easier or to climb the corporate ladder by being the one that saves the company money, makes the company money or comes up with new ideas that add value.
Louis Pasteur said:
"Chance favors the prepared mind"
What I think he meant by that is that creativity isn't a blank slate. It doesn't just happen. It comes together when the mind is prepared ahead of time. And this is what makes Brainstreaming different from regular Brainstorming.
Water is essential for life. If you're a company, ideas are essential for the life of your company. If you don't generate new ideas your company will eventually die. You will be left in the dust by a competitor who does generate new ideas on a consistent basis.
The thing about a storm is that it's unpredictable. You don't know where it's heading. A storm passes through every once in a while and dumps lots of rain all at once. A stream is constant. If you rely on only storms you might get lots of rain or you might get none. A stream is a steady flow of water.
The new Brainstreaming system is a way of integrating your personal life and your business life. It helps you solve problems you have outside of your job, as well as those in your job. Whatever time you put into it is valuable for all problem solving. The more you do it, the better you get at generating ideas and solving problems. Brainstreaming makes you smarter, and a more interesting person.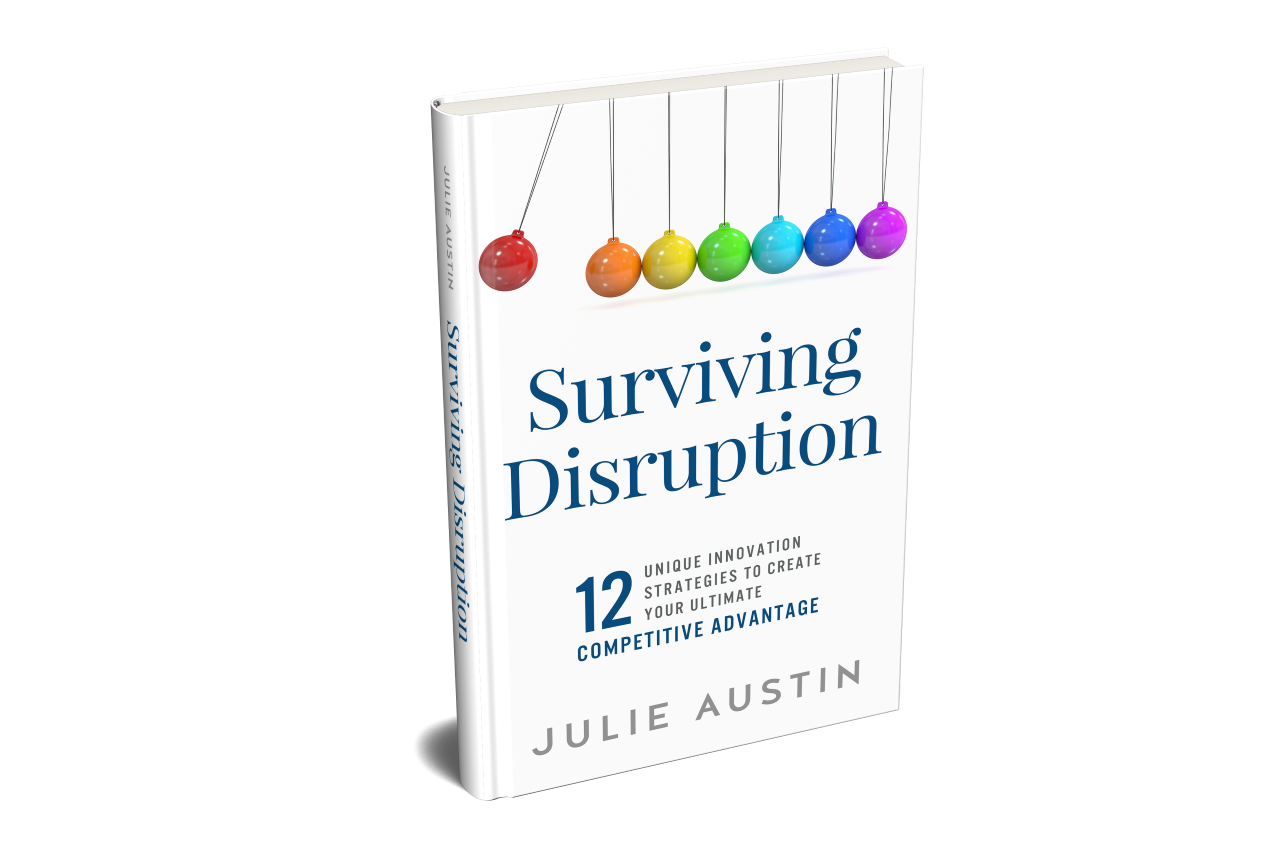 Surviving Disruption: 12 unique innovation strategies
In this new book by inventor and innovation expert Julie Austin, the three secrets to using disruption and change to your advantage are revealed. Disruption. It happens in every business and every industry. It doesn't matter whether you've been around one year or 100 years. Something will change and catch you off guard.
With the combined virtues of astute research and data, relevant anecdotes and harsh truths forged from personal experience, Julie Austin has come up with the perfect survival manual for any businessperson looking to weather the next storm. Tips and cautionary tales blend seamlessly to offer the reader a confident and comprehensive approach for turning danger into opportunity. Written for not just the corporate CEO but the Mom and Pop Store owner, this book is the beacon in the night, lighting the way."
Creative Innovation Group
My goal is to bring you as much value as possible and make you look like a rock star in the eyes of your audience. I'm an inventor and innovation keynote speaker who speaks to organizations on how to generate breakthrough ideas to create their ultimate competitive advantage.
julie@creativeinnovationgroup.com
Creative Innovation Group
My goal is to bring you as much value as possible and make you look like a rock star in the eyes of your audience.
julie@creativeinnovationgroup.com