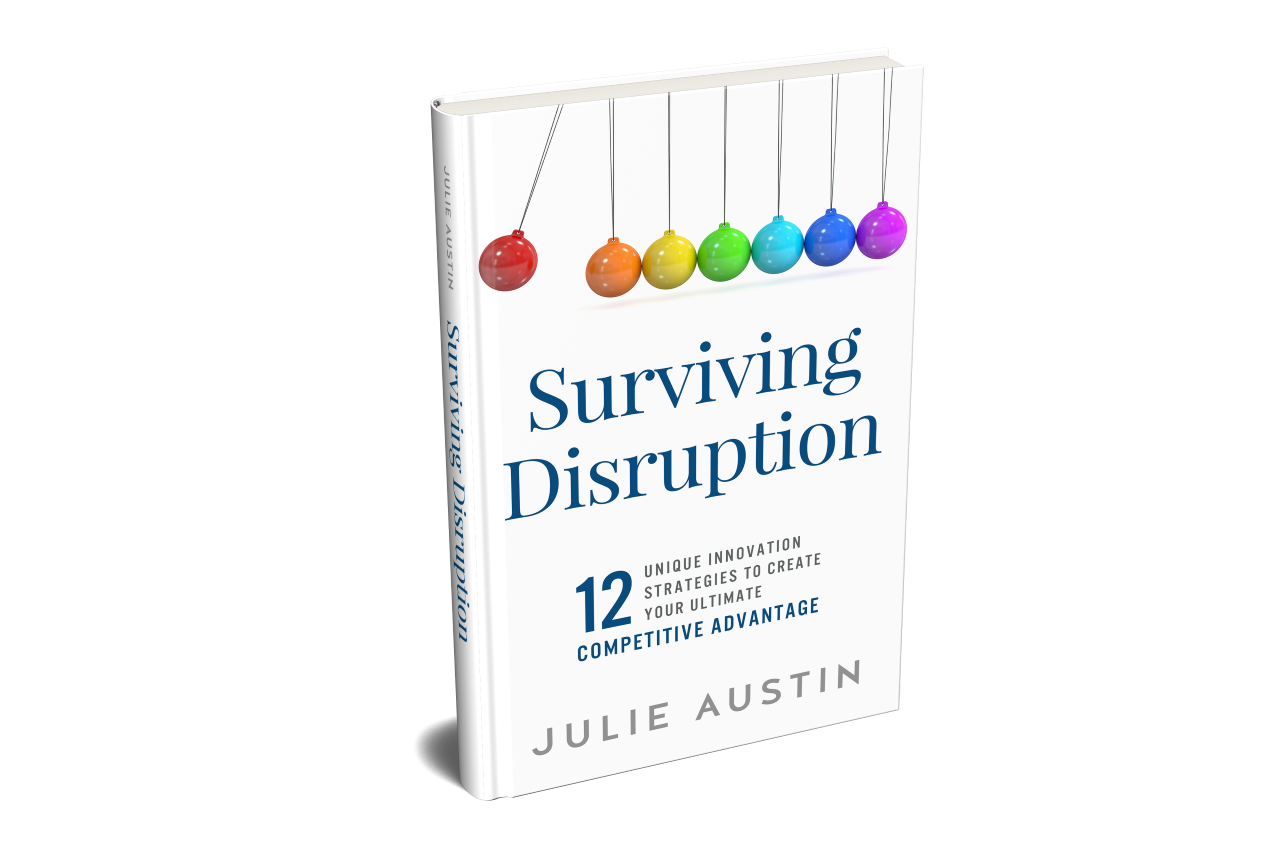 Surviving Disruption: 12 unique innovation strategies
In this new book by inventor and innovation expert Julie Austin, the three secrets to using disruption and change to your advantage are revealed. Disruption. It happens in every business and every industry. It doesn't matter whether you've been around one year or 100 years. Something will change and catch you off guard.

You'll learn:
Leverage and monetize your assets through innovation
Give your customers something they can't get anywhere else
Work with your competition for a win-win
Create an ultimate competitive advantage
Infuse innovation into your company's culture
Create an experience your customers will never forget
Stay first in the minds of your customers
Testimonials
"Surviving Disruption is a must-read for any business owner who wants to stay ahead of both their competition and the inevitable change that happens to everyone in life. When we know what could possibly blindside us, we're able to prepare and pivot when necessary. It isn't just the business world, but government organizations who also get his with change, and must be ready when it happens.'
–CHAD NEWMAN, Key West Film Commisioner
The Money Garden: How to Plant the Seeds for a Lifetime of Income
According to a study by the SBA, multiple business owners are more likely to be classified as high income and high wealth. The only security comes from inventing your own future, and that includes a business portfolio. "The Money Garden" shows you how to use the talents and skills you already have to create a lifetime of income, no matter where you're starting from. You'll learn how to create and run multiple businesses with multiple streams of income.
You'll learn:
How to create a lifetime of moneymaking ideas
How to develop your own uniqueness
Why you should have low, medium, and high end products
Why you should "pyramid up" to avoid going into debt
How to cross market for maximum profit
From the Kings Court to Kickstarter: Patronage in the Modern Era
They say that history repeats itself, and art patronage is no different. From emperors, kings, and noblemen to small businesses, large corporations, and the public, art patrons have helped shape our culture and society as a whole. The symbiotic relationship between artist and patron has fluctuated from the hired hand commissioned to entertain royalty, to the entrepreneurial celebrity artist making fortunes creating their own art and charting their own destinies.
Creative Innovation Group
My goal is to bring you as much value as possible and make you look like a rock star in the eyes of your audience. I'm an inventor and innovation keynote speaker who speaks to organizations on how to generate breakthrough ideas to create their ultimate competitive advantage.
julie@creativeinnovationgroup.com
Creative Innovation Group
My goal is to bring you as much value as possible and make you look like a rock star in the eyes of your audience.
julie@creativeinnovationgroup.com